The market is now flooded with a variety of exciting multimedia visual display systems. Hotels, restaurants, clubs, bars, children parks, shopping malls, showrooms and a host of other businesses are now deploying advanced interactive interiors systems that not only entertain the target audience but also improve meaningful engage. Increased brand recognition, easy up-sale, customer retention, entertainment, interactive advertising –floor projection systems can be used for almost anything!
What does an interactive project system comprise of?
A typical floor projection system comprises of an IR Motion Sensor, proprietary software licensed to a user, computer system, custom or ready made interaction templates complete with various effects and cables. Few other accessories may also be used if a user wishes to avail additional functionalists.
How to Choose the Right Computer System and Projector for an Interactive Display System?
The software that works behind the scenes to produce exciting effects on the floor requires a computer system with a good graphic card and 32-bit operating system (MS Windows). RAM of such a system should be a minimum of 2GB and the processor should Intel Core 2 Duo E7400 or higher. Since computer hardware prices have dropped significantly over the last few years, a standard computer system enough to support interactive floor software doesn't cost much.
The projector should have a reasonably high brightness (3 to 4 thousand lumen minimum) and contrast ratio (0.001). Higher the resolution of the projector, higher is the quality of graphics displayed on the floor that change corresponding to various gestures.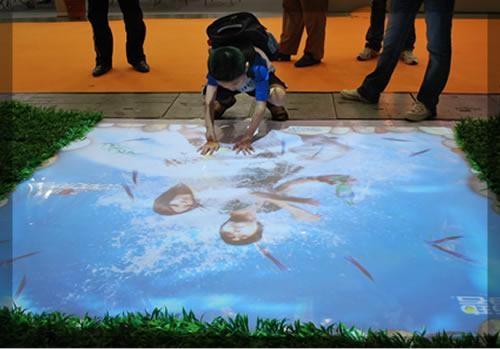 Installation
Setting up an interactive floor projection system isn't more difficult than installing a satellite TV dish! A handyman can mount the IR motion sensitive camera and video projector on a wall closest to the target area or on the ceiling. Once all components including the camera, projector and computer system are connected by cables and other accessories, one can begin configuring the software through a step by step wizard. Adjusting the target area for interaction can take up to an hour but you'd have to be really patient until you finally get it right. Be patient; it's not rocket science!
Effects & Customization
Software systems for interactive floor systems come with hundreds of ready-made effects. It's pretty easy to choose a number of effects/templates through intuitive configuration windows. It's also possible to customize or create new effects from scratch but ready-made effects integrated with the system are generally more than enough!
It's advisable not to go for interactive projection software that comes at a higher price only because it has thousands of effects. You won't possibly be able to use all of them! So, it's a good idea to choose vendors or companies specializing in floor projection technology systems that make you to pay for a select number of features that you need.
View ratings
Rate this article
Rate this article
Article ratings
Current average ratings.